The Counselor is IN:
I started this blog post a month and a half ago and some how never finished it. Life has been extremely busy over the last several weeks. I would like to apologize to Felix at Dallastailgate.com for not blogging in more details about their hospitality.

Several of weeks ago, I was able to attend the Monday Night Football game in Dallas between my beloved Dallas Cowboys and the rival Philadelphia Eagles. My wife and I along with our good friends Kim and Adam joined up with Felix and the great guys at Dallastailgate.com. These guys invited us to join them and made us feel like family. They stuffed us with Inside Out Cheeseburgers, brats, wings, adult beverages (for the boys- Kim and Michelle are expecting) and much more.
Felix working the grill.

These guys tailgate right at the parking ramp. They were talking and mingling with the crowd. They would stop and take pictures of the costumes on the fans and make friendly heckling comments with the Eagles fans.

A true fan reminding us that we have five rings.

A Cowboy fan and an Eagle fan- who knew they could get along.


This is a whole family experience for the Dallastailgate.com crew. Felix's young daughter was a full participant. She heckled the Eagles fans as they went by. She also stomped on a mini-Eagles helmet to symbolize how the Cowboys were going to stomp the Eagles.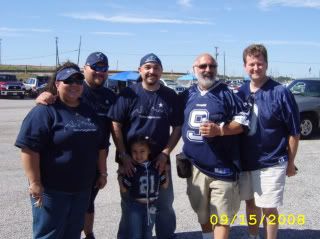 Dallastailgate.com crew (on left), Joe Cahn, The Commissioner Tailgating.com, Larry "Bud" Litle (far right).


Tailgating is a serious affair. There is even a tailgating association. Joe Cahn, The Commissioner of Tailgating from Tailgating.com, stopped by the tent. He gave his approval to the great event hosted by Dallastailgate.com.

Hans Steiniger of Quest for 31

Hans Steiniger of Quest for 31 also stopped by. Hans is perusing visiting every NFL stadium at least once. He is counting his home town Bills in his trek for 31. He is now been at 22 of the 31 stadiums outside of Buffalo. I loved his Joker face and his fun loving personality.
The Dallastailgate.com Crew


This was the way to enjoy tailgating at the game. It was a pure pleasure to get to the game early. We enjoyed the company and hospitality of the Dallastailgate.com gang. If you are ever at a Cowboys home game, stop by their tent. They have some very cool sponsors including El Dorado Motors, who was giving away $100.00 of gas. They also have Tito's Vodka as a sponsor for their adult beverages.

Thank you, Felix and Dallastailgate.com. You guys are awesome!


The Springfield Crew of Michelle, Larry, Kim and Adam (from left to right)



The Counselor is OUT: