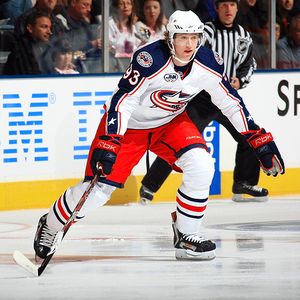 The Hockey Counselor is IN:
It seems like every team in the NHL has been hit with a major injury, I can't remember the last time there were this many superstars out with injuries. Names like
Ovechkin
,
Malkin
,
Savard
,
Kovalchuk
,
Luongo
,
Gonchar
,
Staal
(Eric), among others are all missing time currently due to various serious and minor injuries. These aren't the guys that seem to be hurt every year, in fact Alexander
Ovechkin
has missed a total of 4 games before this season, and 2 of those were for personal reasons.
With all of these players out, there will definitely be a need for depth in each league regardless of how many teams are in it, I'm here to help you find a few lesser known players that can help your team battle through the injuries!
Forwards:
Tyler Kennedy - C - Pittsburgh
- Kennedy is just recovering from an undisclosed injury himself, but with 5 goals and 3 assists this season while playing on the third line, he's definitely worth a look especially in deep fantasy leagues. Kennedy leads the Penguins with game winning goals and he should start to see some more time on the power play with
Evgeni
Malkin
missing 2-3 weeks. He picked up two assists in his last game, look for him to continue to produce especially in the goal category. He's only owned in 19% of Yahoo! leagues so he should be available to almost everyone.
James Van

Riemsdyk

-

LW

- Philadelphia
-
JVR
is getting some serious time with guys like
Gagne
and
Briere
out and he's producing. He has 2 goals and 11 assists thus far and he should start seeing a bit more ice from Head Coach John Stevens. The assists alone are a reason to pick him up but he's also a +6 and already has 3 Power Play Points, and he should get more power play time as the season progresses. He's available in 2/3's of all Yahoo! leagues and he's definitely someone to keep your eye on in the rookie of the year race this season.
Jakub

Voracek

-

RW

- Columbus
- On a team where everyone is overshadowed by Rick Nash,
Voracek
has quietly been putting in a great start to the season. His 4 goals and 6 assists, along with his +5 rating is a perfect example of why to go grab him while you still can. He's getting a bunch of minutes on the power play in Columbus and if you haven't noticed, the Blue Jackets are actually scoring goals this year. He's not going to help you out much in
PIM's
or Shots on goal, but if you need a filler for an injury, he's a perfect fit, plus he's available in 85% of Yahoo! leagues.
Defensemen
:
James

Wisniewski

- D- Anaheim
- Before his 2 game suspension,
Wisniewski
was on a tear, with 9 assists thus far on the season he's definitely worth a look. He's a plus 6 and has 16
PIM's
, but again he is in the middle of a 2 game suspension.
Goalies:
Antero

Niittymaki

- G - Tampa Bay
- With Mike Smith struggling in Tampa,
Niittymaki
has gotten a chance to shine the last few games for the Lightning. So far this year he has an impressive 3 wins, 1.95 Goals Against Average and a .940 Save Percentage. Those are great numbers, and if he can keep that up he's going to get a lot more starts over Smith. Beware, Tampa is a bad team with not a lot of goal support for him, so he may be on the loosing end of a few 2-1 or 1-0 games, but he'll still see a ton of shots and save most of them.
That's
it for the Fantasy Hockey Counselor for this week, tune in this weekend for all the latest injury news from Larry on
FSC
!
The Hockey Counselor is OUT: